Treaty Education is not only mandatory in the Saskatchewan curriculum and thus, an obligation for educators to responsibly teach, but also a very important subject to address in order to move away from teaching colonialism and racism in the underlying curriculum and stride towards instilling true understandings about the history of our country among our students. Unfortunately, treaty-education makes many educators feel uncomfortable and challenges them to unlearn the societal narratives that they were raised with and change their perspectives concerning what it truly means to be a treaty person. Many Canadians lack understanding or are misinformed about Indigenous people in Canada which reiterates the importance of teaching Treaty-Education.
I believe, to begin teaching Treaty Education appropriately, as an educator, I must open myself up to accepting the discomfort that comes with recognizing who I am as a Treaty Person. I must embrace the discomfort of owning my privileges as a white settler and admitting that some of my views may be biased or stereotypical. It is often unsettling to question the ideas and beliefs that I grew up with but, it is vital that I begin to recognize the myths in society surrounding colonialism and actively work to debunk them and own the honest truth of our country.
I believe that a strong starting point for teaching Treaty-Education in the classroom is developing the understanding that we are all Treaty people. Personally, this idea was only introduced to me in my first year of University and initially, it was confusing to hear because my mindset was that I was not a First Nations, Metis, or Inuit person and thus, I was not a treaty person. Today, I recognize the harm in that belief and can now comfortably acknowledge that I am a Treaty person because treaties were agreed upon between Indigenous people of Canada and European settlers from whom I descend, on the covenant "as long as the sun shines and the rivers flow" which implies that they will always exist. In fact, living in Canada, we are all treaty people. As Canadians, we all inherit the outcomes of treaties and experience the effects of them every day. The decisions of the past have created the future of today and we must acknowledge them and learn the truth about our country's past which begins long before European settlement.  Reading Cynthia Chamber's chapter titled We are all Treaty People with students may help instill this perspective in one's classroom and initiate openness to learning about treaties and their continuous effects on our country.
With the understanding that we are all treaty people, it should become evident why no matter what race we belong to, Treaty-education is part of every Canadian's identity and should be taught to all students. Many Indigenous students have knowledge about Treaty-education and indigenous people's history of our land and as Claire suggests in her introduction video, Indigenous peoples of Canada "do not want more cultural programming … especially when these programs are aimed at them specifically." What Indigenous students want is to be treated fairly, for the colour of their skin not be a barrier to their success, and for their classmates to know and understand the things that they know and understand about being Indigenous to Canada. Treaty-education goes far beyond teaching about our countries past because it demonstrates respect and admiration for the people who began on our land and have experienced detrimental effects due to white European settlement. It may be a valuable approach to allow Indigenous students in our classrooms to share their stories and perspectives to create a rich and real learning experience for all students.
Our society has become instilled with racism which is "pervasive, insidious, and deadly" as expressed by Claire in her introducing Treaty Education video. News stories such as the Colten Boushie case or cases of MMIW exemplify this idea and can be used in our classrooms to illustrate the truth about racism in our province. Recent examples concerning the effects of treaties that are still relevant today should help students understand the seriousness of Treaty Education and be open to the learning process. I hope to include such stories in my future lessons to help the concept of Treaty Education become real and present in the eyes and minds of my students rather than simply a topic of our past. It is important that Treaty Education is taught from a current perspective where the importance of continuing to work towards reconciliation is highlighted.
As a math major, I am often challenged to consider how Treaty Education could fit into the high school math courses that I will soon be teaching. This is a concept that I believe I will never have a concrete answer to but rather, I will continue to develop and implement new ideas. What I do know is that I don't want to simply infuse or incorporate Indigenous ideas into math classes because as Dwayne Donald suggests in his article, these practices would continue to colonize Indigenous peoples as they would attempt to take Indigenous cultures and fit them into the Western European math that is currently taught in schools. As a math educator, it will be important for me to find ways to experience Indigenous practices and beliefs with my students without removing them from their tradition and swallowing them with European mathematical teachings. Below I included two examples of Teaching Treaty Education in math classrooms that I have found to be valuable. I look forward to continuing to grow and develop more ideas that will help me respectfully teach Treaty Education and mathematics consecutively.
I had the opportunity to participate in a lesson where my class was posed with a task to determine the area of land that is set aside as Indigenous reserve land in Canada and then visually and numerically compare this to the landmass of Canada. To complete this task, my classmates and I were required to use various mathematical ideas, logical thinking, and problem-solving skills, and thus, we were doing math but never were these ideas highlighted. This allowed the focus to remain on Treaty education rather than the ideas being swallowed by mathematics. This activity powerfully illuminated the little amount of land that was left for Indigenous peoples to live according to treaty agreements. With creativity, this activity can be connected to mathematical ideas in all of the high school strands and thus, is a valuable task that I plan to steal and share with my future students.
This is a Probability lesson plan that I developed with culturally responsive pedagogy in mind. I was inspired by the Indigenous Games For Children Resources published by High Five, Canada's quality standard for children's programs, when designing this lesson. I believe that including traditional Indigenous games and activities in our classrooms is one way that we can help our students reflect on the rich cultural heritage of Indigenous peoples across Canada and appropriately include Treaty Education in a variety of subject areas.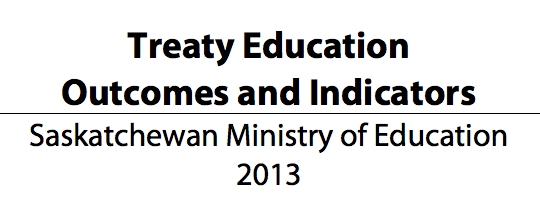 I also believe it is important for teachers to be familiar with Saskatchewan's Treaty Outcomes and Indicators. It is vital that educators not only read through this document but continually reflect on it to deepen their understandings and challenge themselves to critically think about what they are saying and how they could look in practice. In 2007, the Saskatchewan government and ministry of education committed to making mandatory instruction of the history and content of Canadian Treaties in the K-12 curriculum. While they are presented separately, the goals for Treaty Education can only be understood when considered as parts of a whole and thus, the outcomes and indicators at each grade level are designed to engage learners on a journey of inquiry and discovery. When meaningfully and thoughtfully incorporated into subject areas, Treaty Education moves beyond an idea to become actualized and becomes a belief that benefits all learners. It is the teachers' responsibility to know the Treaty Outcomes and Indicators and to creatively work together to respectfully implement them in our schools.
My final advice to myself and all other educators in order to shine a line and illuminate Treaty Education is to keep talking. The more we discuss Treaty-education, the more natural it will become and the more willing people will be to continue the conversations. Residential schools may no longer exist but their mentality remains constant and in order to fix that, we need to be honest about our countries past and embed our curriculum with Treaty-education rather than colonialism and racism which continue to persist. By taking responsibility for Treaty-education, we are putting ourselves in a position that will permit reconciliation and a more optimal future where everyone matters and has a voice to be heard.